As you know I not long ago picked up my new daily, an '86 Corvette. I've done a good few hundred miles in it now and it's great fun, handles fantastically and makes all the right noises!
I'd recently been trying to diagnose a little idle stumble that it'd had since purchase and as such had been cleaning the idle air valve, butterflies, resetting the throttle pot and so on. Ironically it was one of those really frustrating problems, with the car being absolutely spot on the majority of the time, then occasionally turning into a stumbling beast at idle.
It did give me the opportunity to find I've got a brand new TPS, IAC and a recent MAF though so not all bad!
However, whilst I was there, I was interested to see how the power was holding up after 21 years on the road, so I rang up a quite well reputed RR near me in Bletchley and headed on down.
It turned out that this was the same RR the previous owner had come to and the operater, Martin, recognised it and took me through the issue - a worn throttle bush, or shaft that was causing the problem (which was the conclusion I'd come to) - either way effectively requiring the replacement of the body.
A shiny new bored out one is on the way, which should combine nicely with my new K&N and new filter box to up the power a further 10BHP and 12ft.lb, as that's what the forum dynos show......Anyway!
......back to the dyno, it made pretty much bang on factory figures! Air/fuel, emissions, all spot on!
Huzzah! So all is well in Corvette land!
Some pics:
And the dyno graph: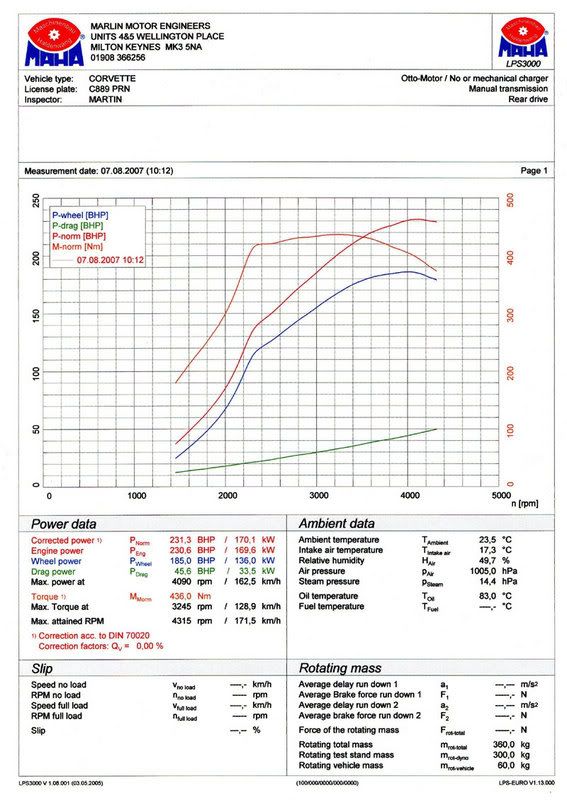 A total result of 230.6BHP at the crank, 185BHP at the wheels and 436NM of torque (
320ft.lb!
).
Certainly feels it, hell, even the early 'just' 200BHP ones did 154MPH flat out! Not bad for a 21 year old car, so she's doing quite well for her age.
The curves reflect the driving feel as well, once it starts singing in 2nd and 3rd at about 2500RPM it just goes, below 70 it tends to feel like it's not really trying.
So more than happy with that really. If anyone's in Beds or MK, I can highly recommend Marlin Motor Engineers, it's a really good place and the dyno is excellent! One of the receptionists is extremely pretty as well!
Here's a vid of the dyno - should have had my tripod but didn't really think, ah well!
http://uk.youtube.com/watch?v=pgA27hTfRdE
They had a mental autocross Mini (new shape) there too - with a 600BHP Supra engine in the nose........It was bonkers! It was burning rubber on the dyno and had stuck itself to it.
They're right about dynos though - 3000RPM sounds like 7000 and 5000 sounds like ten!