About 18 months ago I bought a 1984 Landrover 90, as my car at the time (a 1959 series 2) whilst brilliant was not exactly designed for the thrills and spills of modern motoring- drum brakes all round, no seatbelts etc.
Well, after getting a job near Heathrow and living some 34 miles away the 90 and I started spending a lot of time together, mostly on the A331, M3 and M25...
Whilst i liked the straight four 2.25 a lot- it was simple to work on, reliable (mostly), gave 18mpg on gas and was nice and quiet; for all its good points you could never overlook its lack of power. This was especially infuriating on hills or when joining major A-roads or motorways. When you go to overtake a lorry, and you see it creeping back up on you in your side mirror it can never be good! The other classic situation was when pulling onto a major road like the a3 and you get stuck behind someone who pootles along at 35-40 and then boots it at the last second. This therefore left me with no sliproad left to build up speed...
So, a plan was hatched to buy, rebuild and fit a v8. I promptly began surfing the bay and eventually came home with this, a 10.5:1 P6 engine, which also came with a Milner conversion kit which would allow it to be coupled to a gearbox from a 4cyl vehicle, a ropey LT77 to add to my ever growing pile of spares and some exhaust stuff…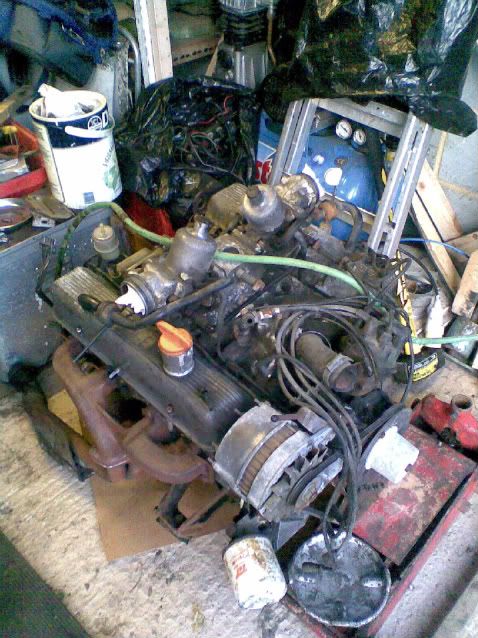 This was stripped down and found to have a pretty worn top end and two of the cylinders had some deep scoring. The guy i bought the engine from gave me a second lump for free, and although this was better it was still less than perfect.
After posting on one of the landrover forums i decided to do the conversion without the Milner kit and use a proper long bellhoused LT77, which i collected from a friendly LR4X4 forum member. Using this would push the lump forward in the engine bay and prevent the need to modify the bulkhead to fit.
Some time later, after posting my first question on here, i was offered a 3.5 block, crank and pistons for free by Pete (Sidecar). He had originally taken the lump out to investigate a drop of compression on all cylinders, but was offered a 4.6 at a price he couldnt refuse, so the 3.5 sat on the bench in his garage. I zoomed over there to pick it up and after a long chat with the him was told that it had supposedly been rebuilt by the previous owner just before selling it some 5000 miles ago. The cylinders were all spot on, with no lip at the top and honing marks still visible. The comp ratio is 9.35:1 and the 38A prefix on the engine number gives it as a factory recon SD1 ('82-87). This was a perfect base for the rebuild- apart from the fact it had been painted blue...(I should point out not by sidecar, it was that colour when he got it
)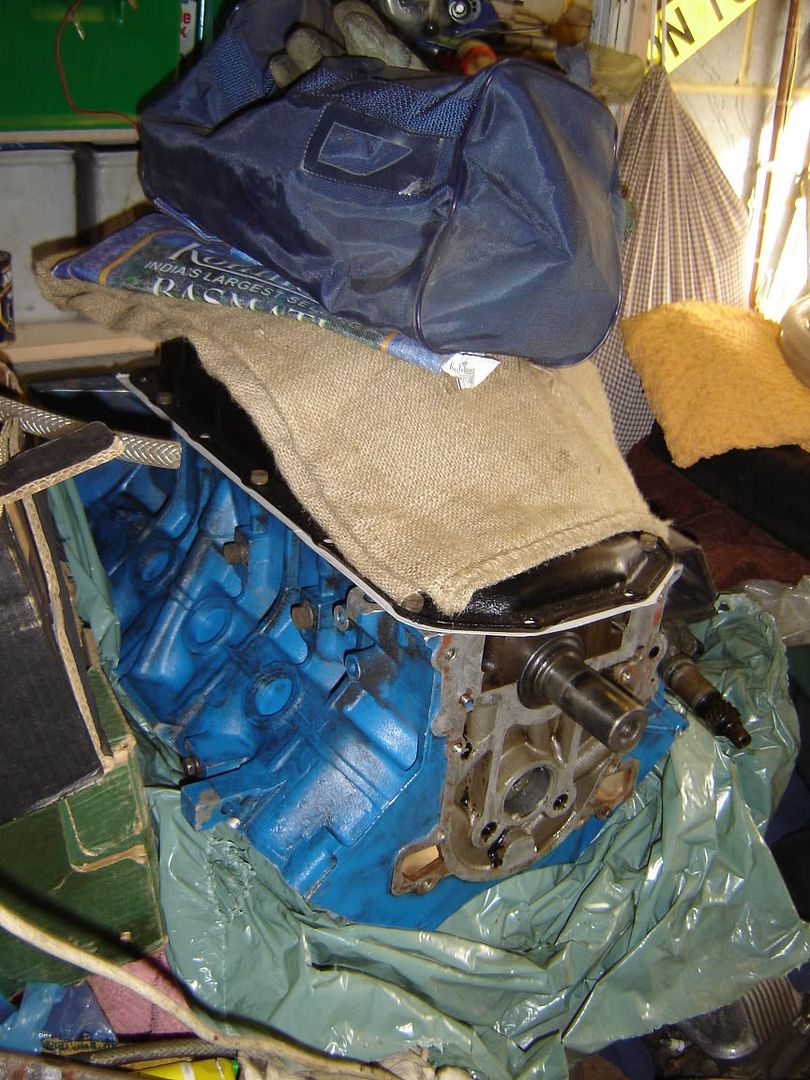 I had been in the process of rebuilding some old 14 bolt SD1 heads we had, but this changed when my Dad bought another set as spares for his 101 on ebay and they turned out to be 10 bolt jobs. He kindly donated them to me as they were in much better nick and these were then rebuilt. I still owe him a set of heads.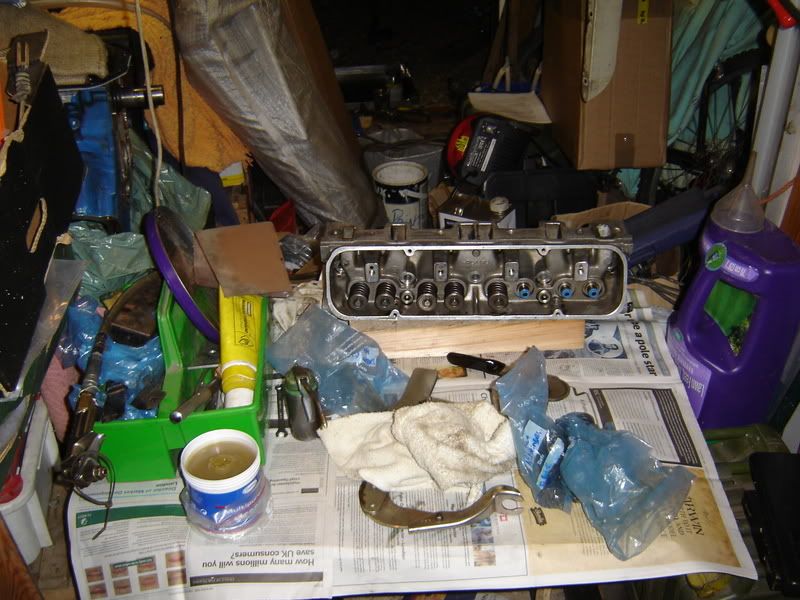 Rocker assemblies were shot, so new ones were bought and assembled. My mums little microwave/electric oven was very handy for heating the pedestals and sliding them into place. No piccies unfortunately
The block was then stripped and everything cleaned and examined. Bores were in size, but the rings were shot (they looked fairly old, like they had not been changed in the last 'rebuild' ) with some of them having gaps over 15 thou over tolerance. The crank was fine and i also had an almost new set of timing gears and chain. Lots of orders for bits and pieces started going out.
Bores were glaze busted, and the blue paint removed followed by a thorough clean. Bearings were changed, and new piston rings went on. Everything was fairly straightforward but doing everything 8 times takes ages! Lots of lovely red assembly lube was used as it wasnt going to be fired up for a little while at this point.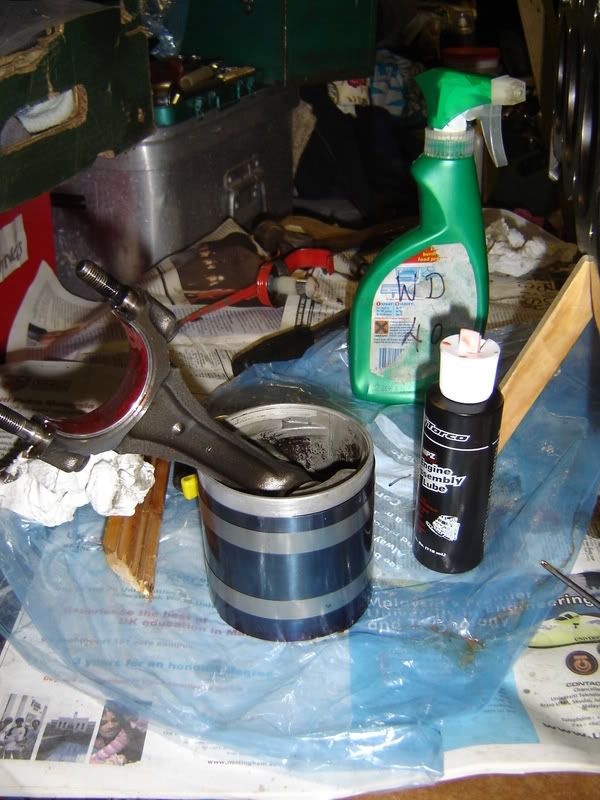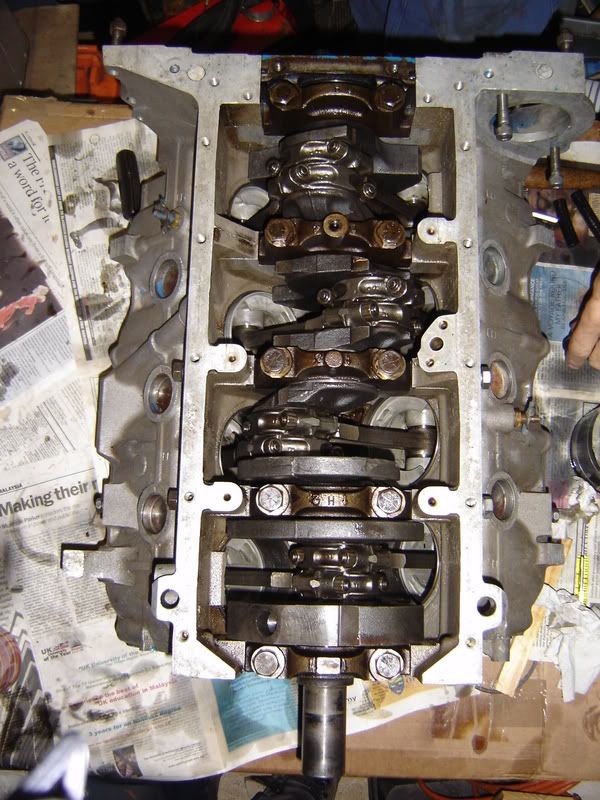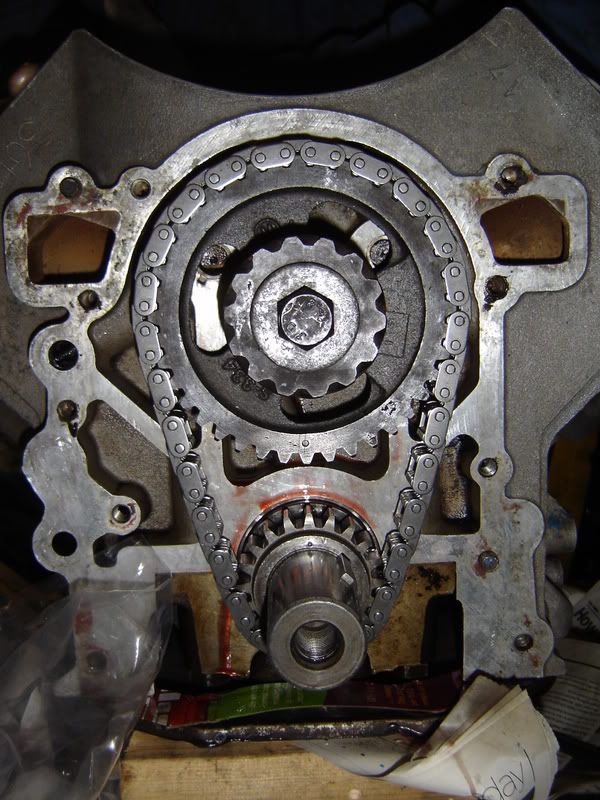 Timing cover and pumps were taken off an old range rover engine we had in the garden, decided to remove the water pump to check it and in the process two bolts snapped off in the cover- this was rectified by a local engineering firm who managed to get them out and clean up the threads for me. The oil pump was badly scored, so this was lapped with wet and dry lubed with parrafin on a sheet of plate glass, it took ages but came up pretty well.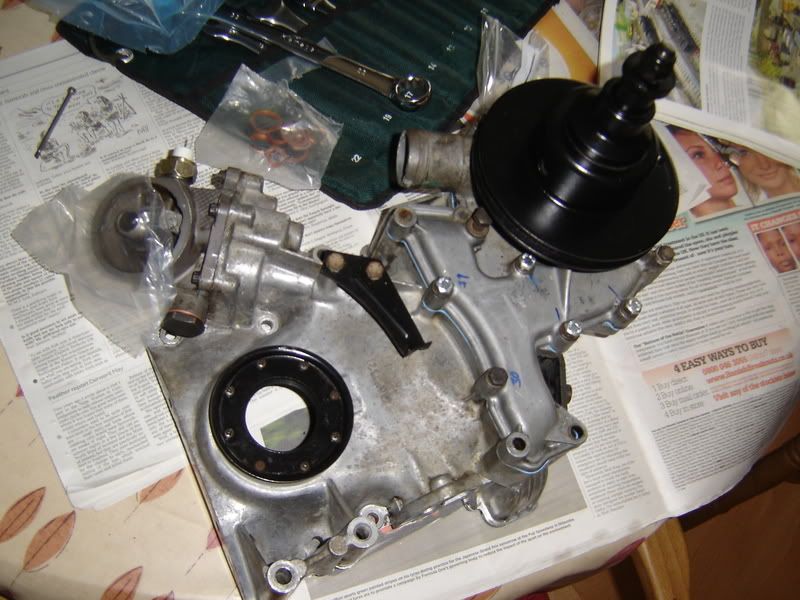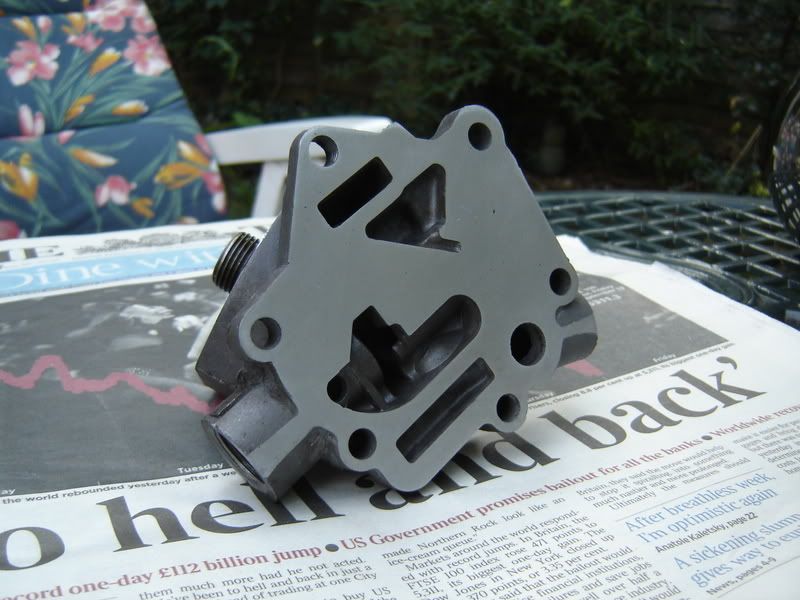 Everything got a clean up, nice shiny inlet manifold:
Blinging metallic black rocker covers (will go on after LPG is reinstalled)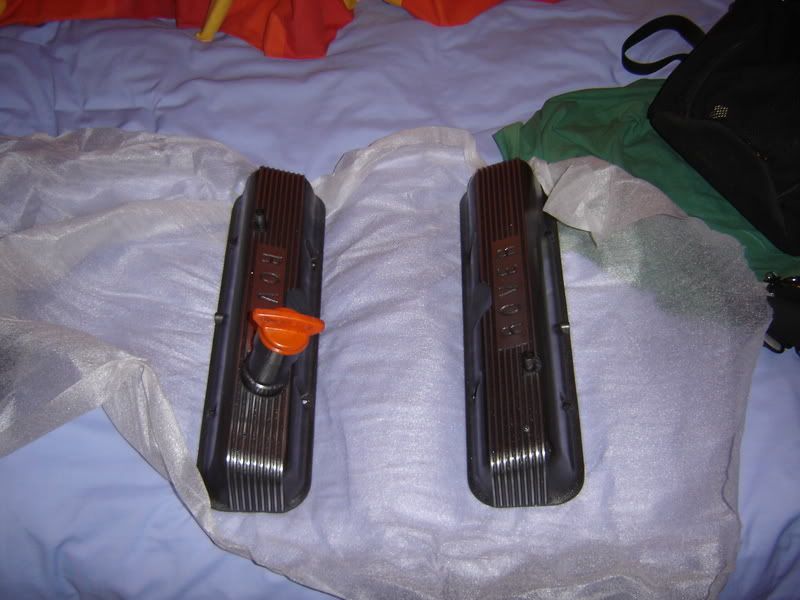 The carbs were dismantled and given a good clean and treated to new seals, floats were checked and heights doublechecked.
Before: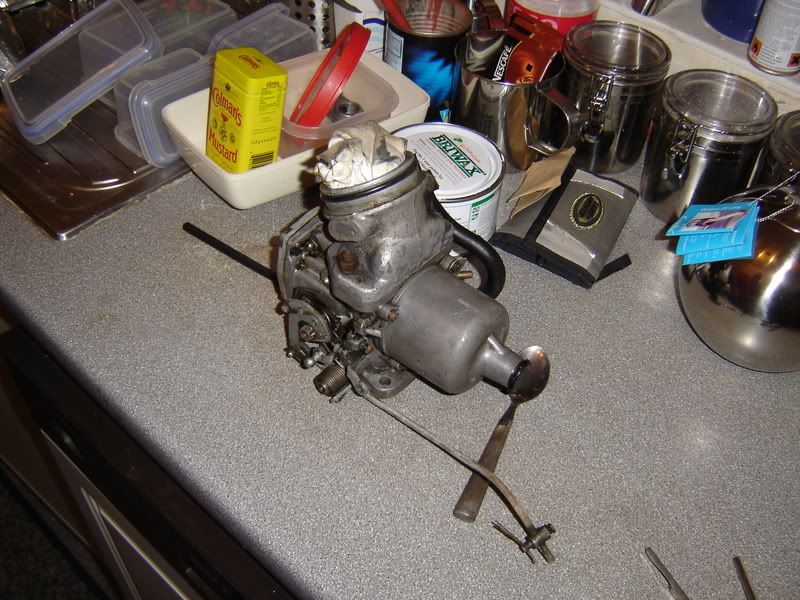 After: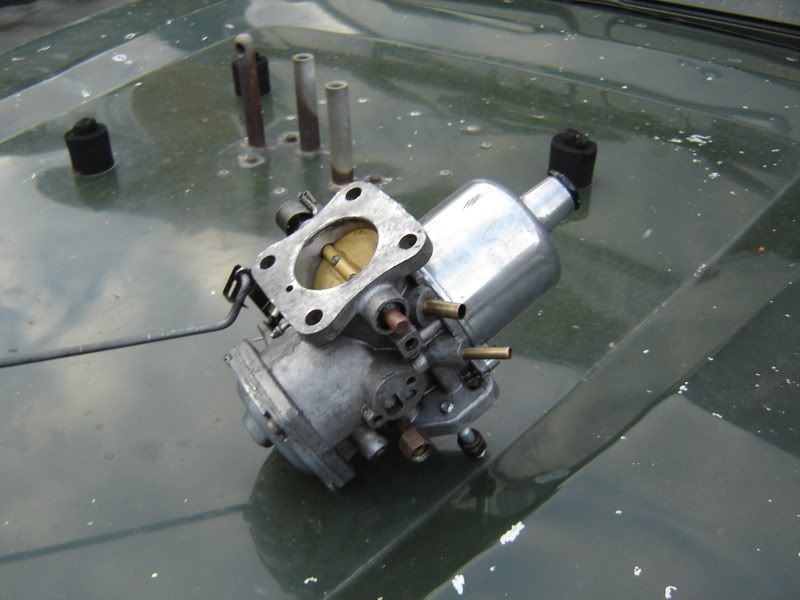 Then as i had some holiday to use up i took the week off for the conversion. I started by taking out the front panel and radiator, and removing the floors: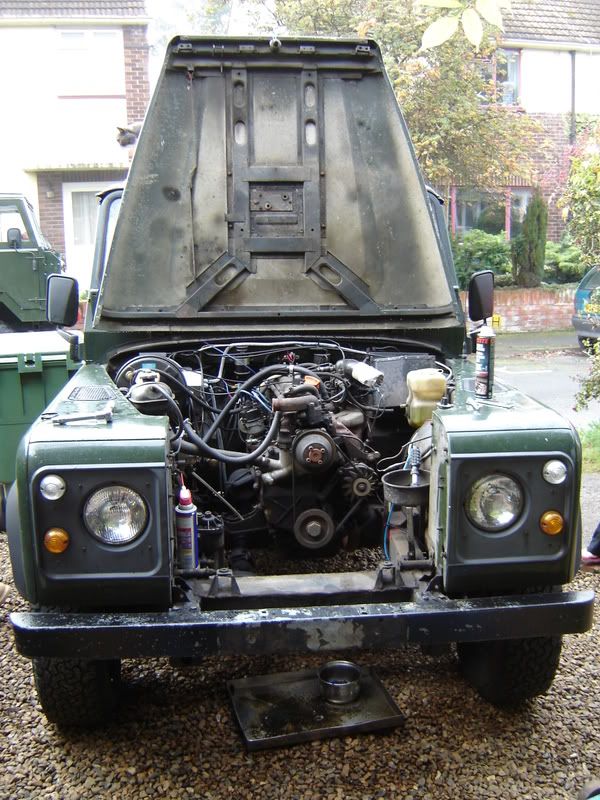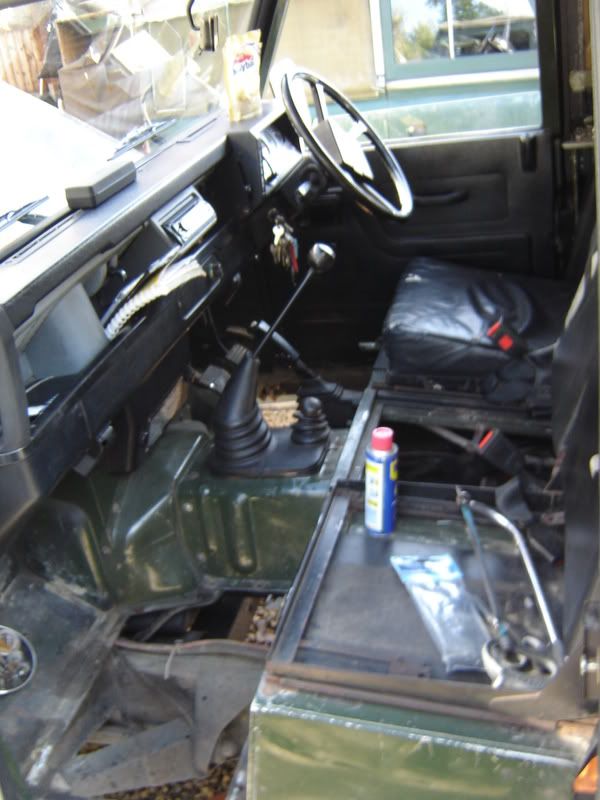 The 2.25 was then extracted, Dad takes a breather...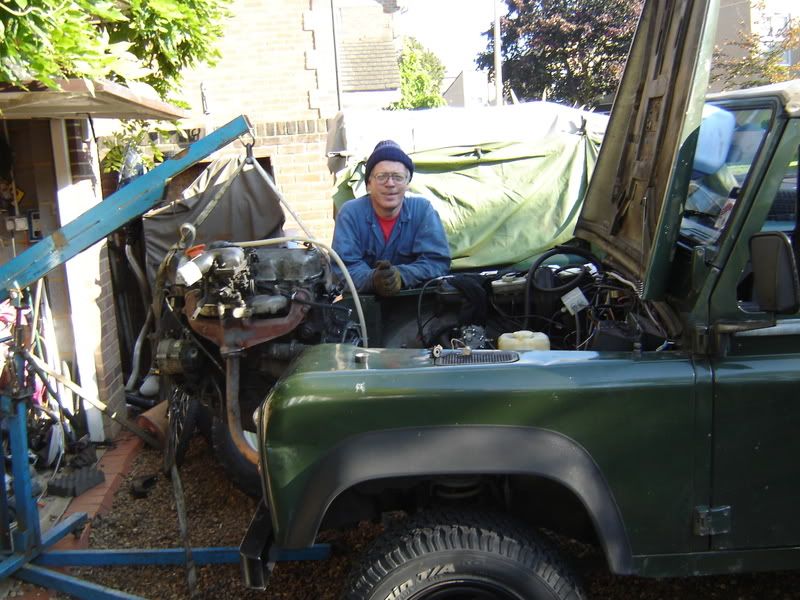 Followed by the box- was a shame to take this out really, shifted nicely and was very quiet with no whine whatsoever.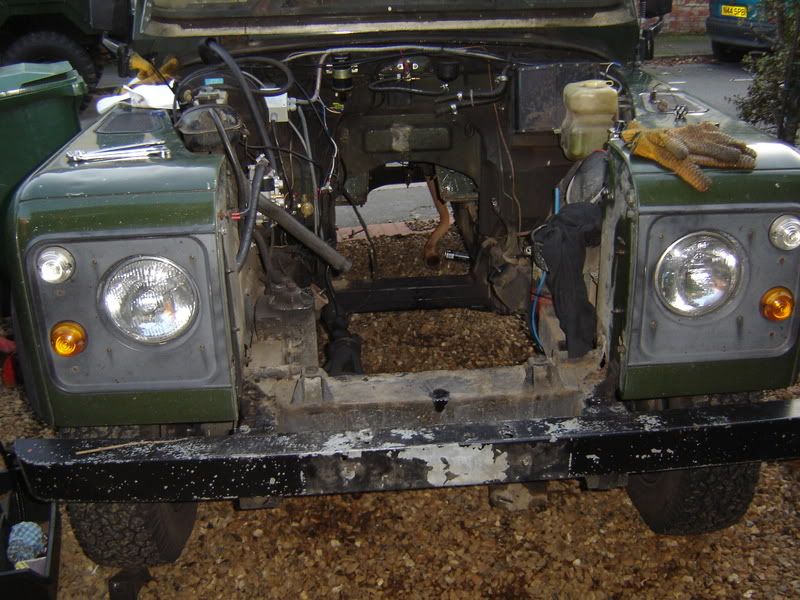 The long bellhoused box was then jacked into position and mounted, not easy to move about on a gravel driveway, there was a bit of a panic when i drained the boxes and got a 50/50 mix of oils and clean water. Top tip, when you buy a box make sure you drain it right away…
I then swung one of the knackered blocks into position and bolted it up to the bellhousing. This then allowed me to weld the mounts in the correct place. I dont weld very often so after a couple of hiccups we eventually got them attached with some nice seams.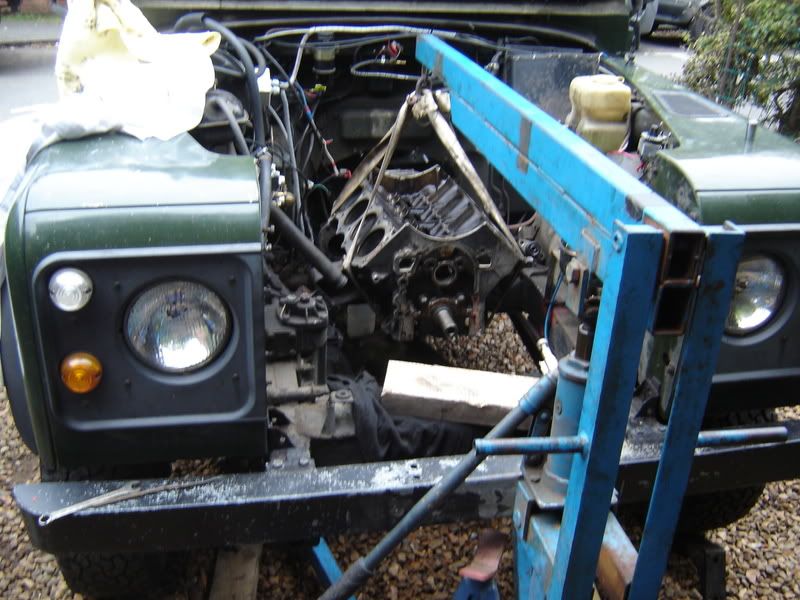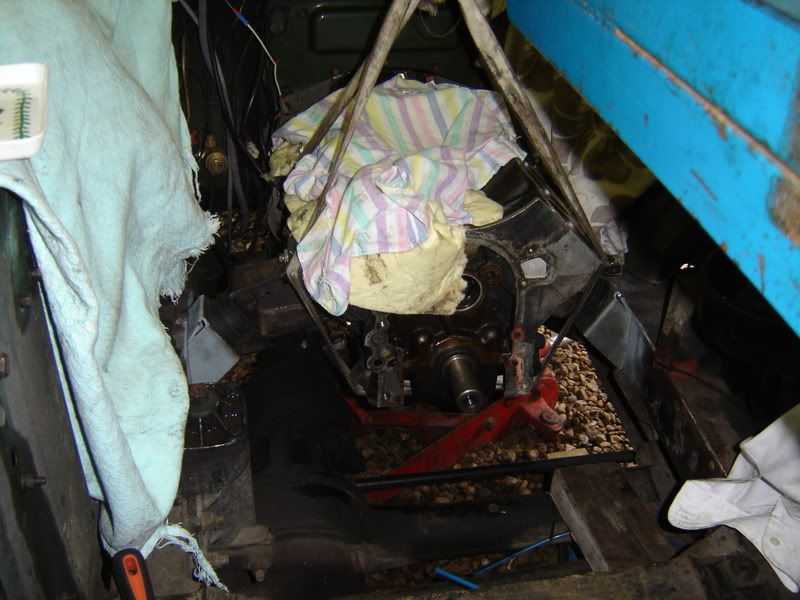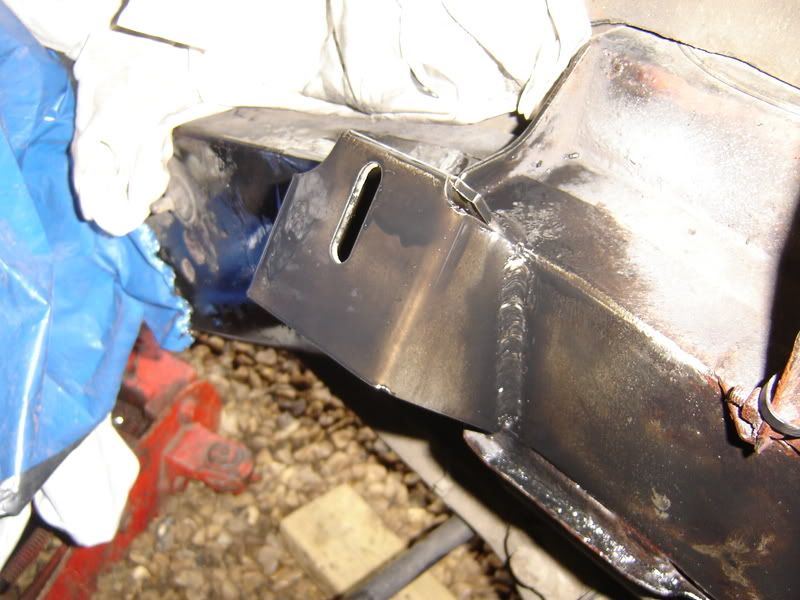 The block was then taken out, the chassis painted and the clutch release stuff was sorted.It started raining so we set up the obligatory cover.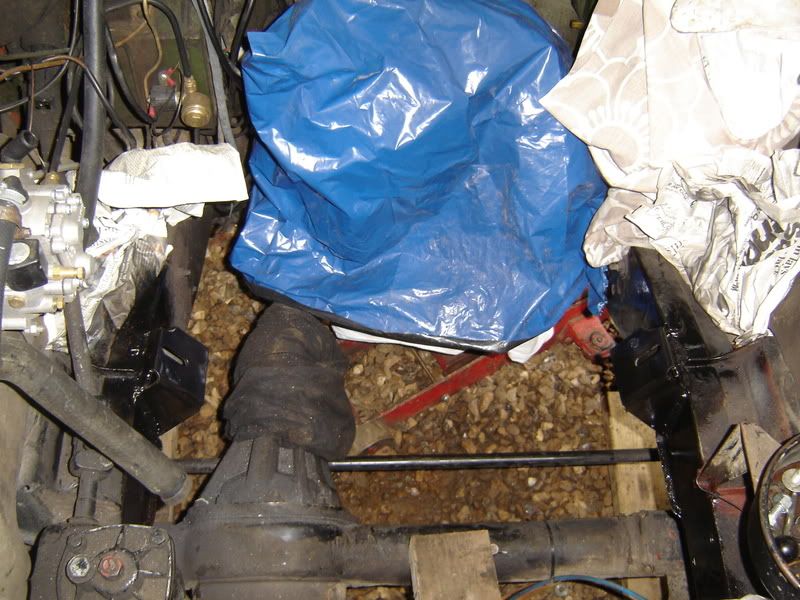 The engine was then swung in and some 4 hours later we managed to get it bolted up to the gearbox properly. Mission!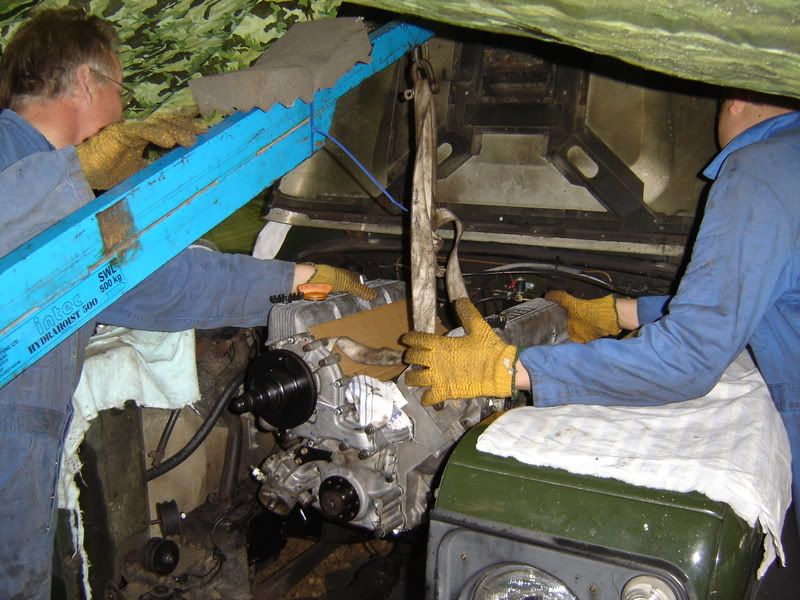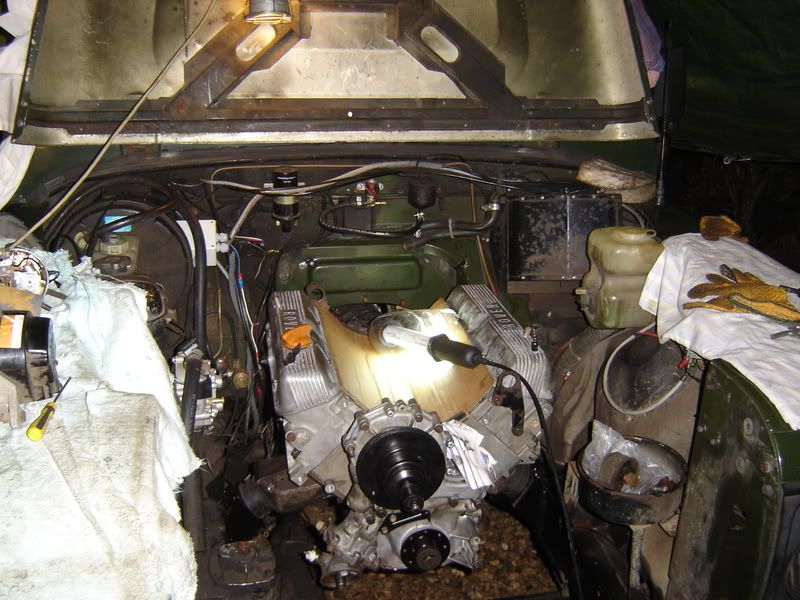 The high tech cardboard composite gasket was removed, and the top end started going together. Lots of camlube on the high pressure points and assembly lube elsewhere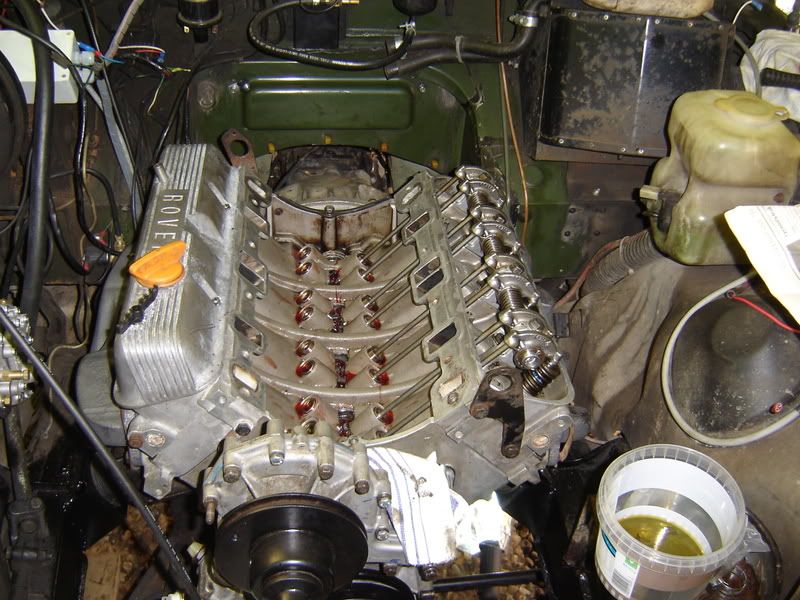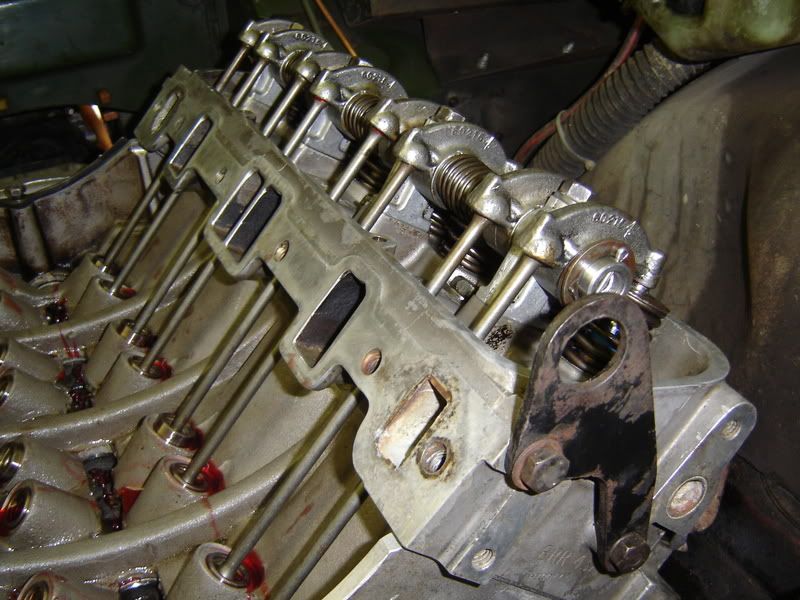 Dad then got the valley gasket on and inlet manifold sorted whilst i looked at the exhaust. Not having any gaskets to go between manifolds and downpipes was a pain in the arse as i couldnt separate the sections, but they were put in to test the fit. All was ok with the front sections, but the y-section wouldnt reach the centre silencer. I lengthened the y-section slightly to fit.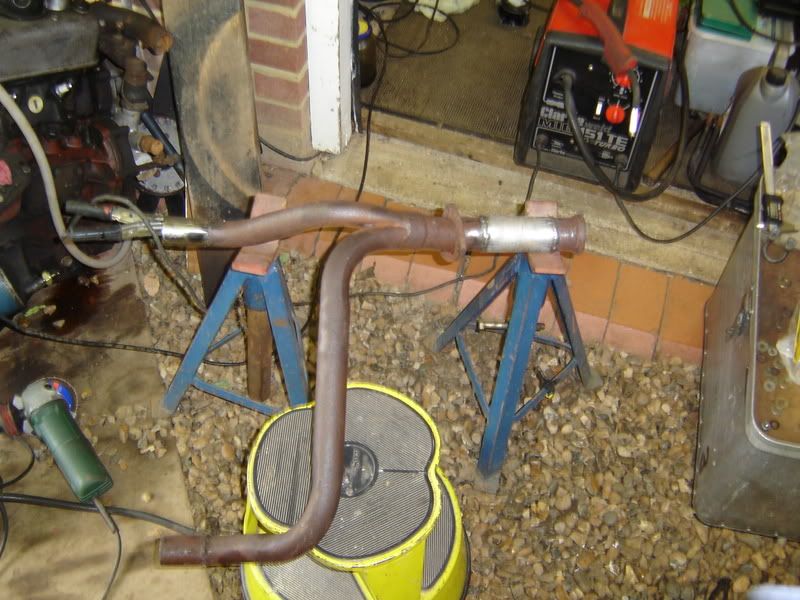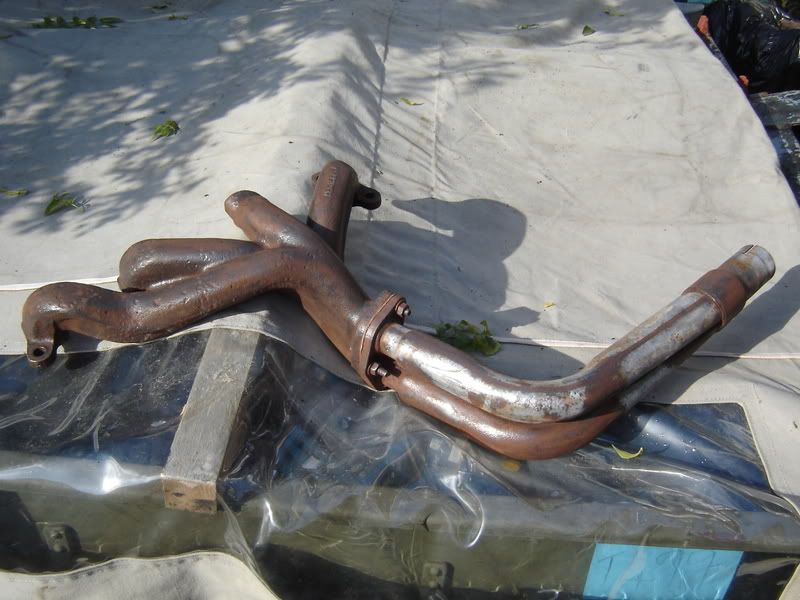 Exhausts cleaned up and painted- I ran out of the dark grey/ metallic black and so had to use normal black on the downpipes. These connect to the existing centre silencer and rear section which has a further small silencer, these last two sections are the same parts as were used on the original 90/110 v8's, 2.5's and 2.25's so *should* be OK.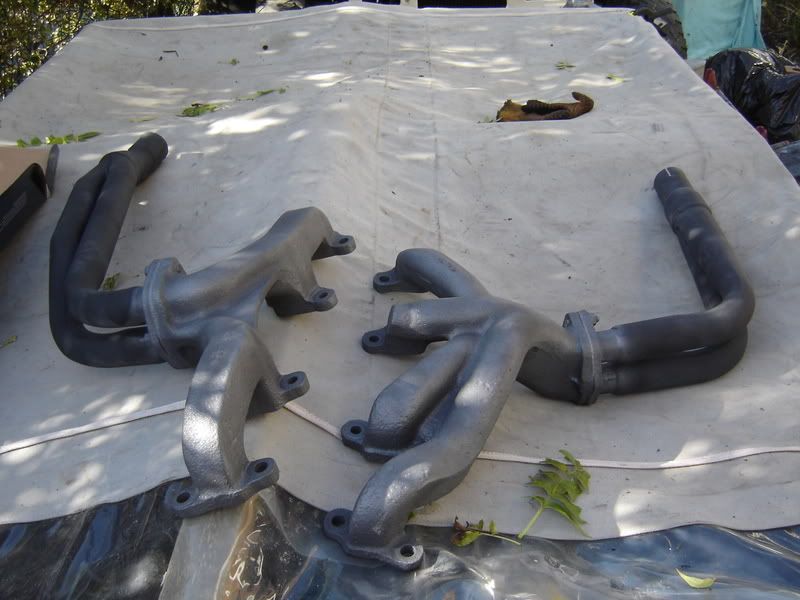 Getting everything back together.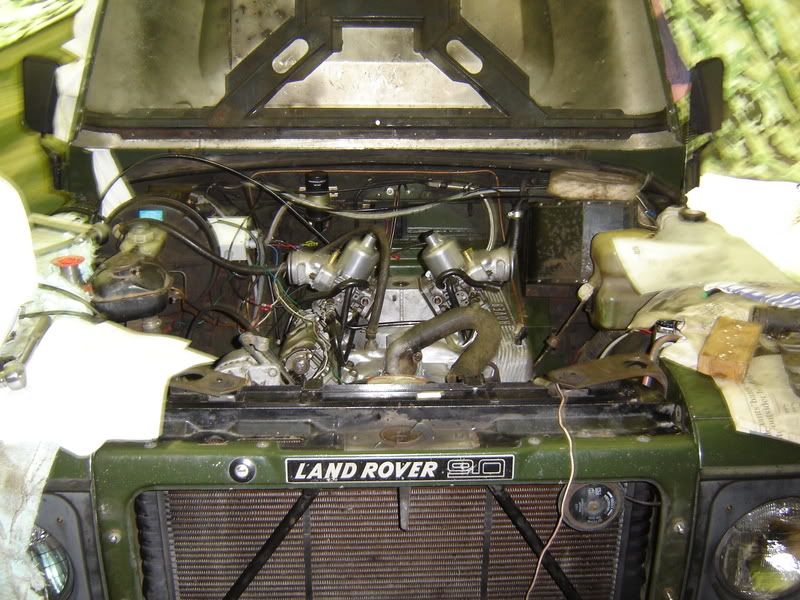 TaDa!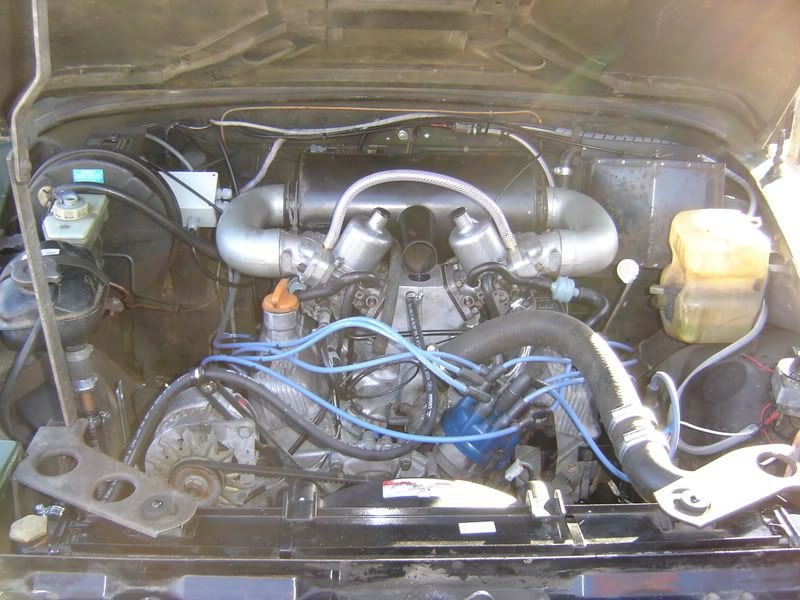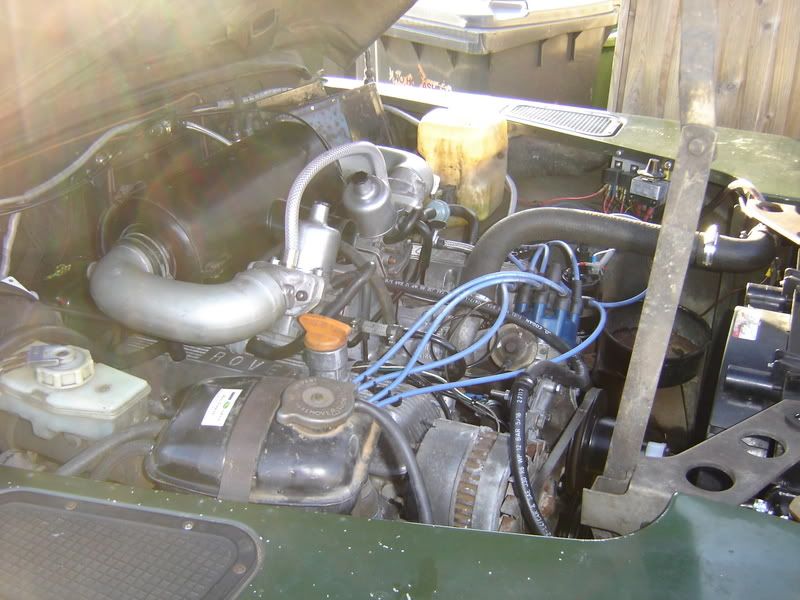 This thing sounds lovely (although its hard to record the true sound properly) and pulls like a train, i can now overtake people safely, go up hills and merge onto motorways easily!
The two silencers mean that it does bark when you give it a prod but when crusing or sitting at idle the noise is minimal. I do worry that the rear section is a bit restrictive however. My heater is now fantastic on chilly days, and the water temp sits dead centre on the gauge without going above. Oil pressure is about 20psi at idle when hot, and tends to be around 35psi when crusing at 60mph in fifth so i am happy with that too.
Big thanks go out to my family for letting me invade for a week- but especially to my Dad for all his help, and to my girlfriend who put up with me staying away for a week whilst i got it done. Finally, another big thank you to Pete for donating the 'heart' of my new engine. Legends!
Update…
Since I wrote the original installation notes I have setup and balanced the carbs, and begun refitting the LPG. Tank to vapouriser pipework had been changed but I need to mount and connect up the vapouriser and stop solenoids, then i can get my nice rocker covers on.
My initial plan had been to stay with the carbs, using LPG most of the time and installing MegaJolt to give me switchable ignition maps. With the price of petrol dropping this has now changed as I think I may as well go EFI to improve petrol running costs and therefore be less dependent on gas, although I will still run LPG whenever I can.
I have just bought an EFi setup off ebay, and am waiting for that to arrive. Along with that I plan to get EDIS and Megasquirt fitted sometime in the Spring if time and money allow.
Day to day I seem to get around 20mpg, which I am very happy with as I was only getting 21-22mpg with the four cylinder!